CityWay Retailers
Dine, relax, mingle. We have it all right here in Downtown Indianapolis.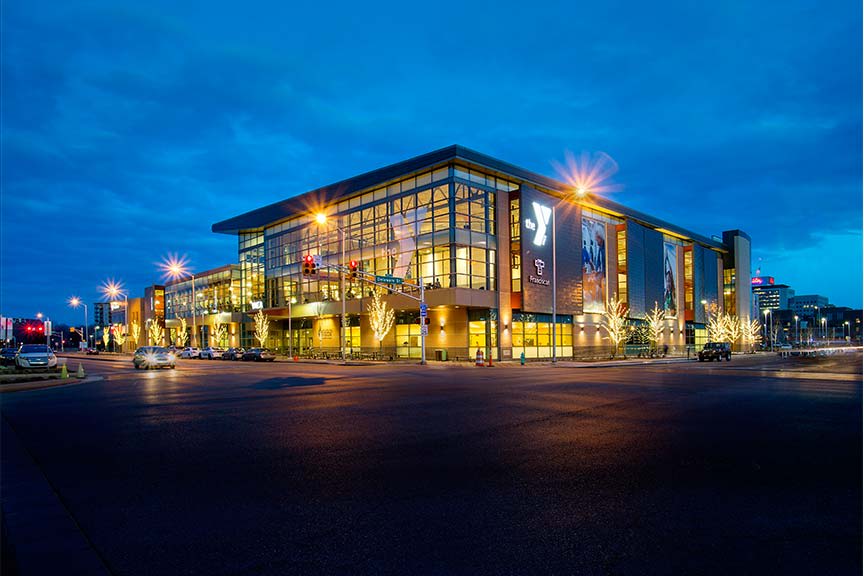 Franciscan ExpressCare CityWay
The care you need, when you need it.
After-hours care is now available in downtown Indy thanks to Franciscan ExpressCare, an urgent care center at CityWay, directly across from Franciscan's primary care clinic in the Irsay Family YMCA at CityWay. The center offers convenient, fast and complete treatment for non-life threatening illnesses and injuries.

Walk-in health needs will be met from 7 a.m. to 11 p.m. every day of the year. The location offers X-ray and lab services, flu and tetanus shots, breathing treatments, drug and alcohol screenings, and school/sports physicals.

The best part is that no appointment is needed, just walk right in!
---
Franciscan CityWay
Healthcare steps from your door.
Meet downtown Indy's new health and wellness dream team! Franciscan CityWay and the YMCA at CityWay are creating a whole new world of fitness and health in downtown Indianapolis. This exciting partnership combines the strength of Franciscan's primary care, sports medicine and physical therapy services to the depth of health and wellness services provided by the full-service YMCA.
Franciscan CityWay features family medicine, sports medicine, physical therapy, occupational therapy, lab work, imaging, and more.
---
CityWay Gallery
Experience the art of living.
The CityWay Gallery allows artists to showcase their creative works in a welcoming environment for visitors and residents of Indianapolis to enjoy. Art is curated from local exhibitors, mostly of contemporary are. Artist rotate through the gallery every two months with Artists Talks frequently held when a new installation is released. Artists include local, regional and national and range from different expertises.
---
Market Table
Buffet style made classy.
Market Table represents a culinary departure from typical hotel buffets and banquets. The dining area is designed with a beautiful open kitchen that puts cooks and guests face-to-face. Private dining and event space available. Outdoor terrace seating available.
---
Nesso Coastal Italia
Sophisticed Italian at your door.
Nesso Coastal Italia highlights the rich flavors and traditions of Italian cuisine with the light aspects of fresh coastal cuisine. The menu offers a sampling of seafood, locally sourced meats and vegetables, fresh pasta, and other inspirational plates by the Nesso culinary team.
Nesso is part of the Cunningham Restaurant Group.
---
Plat 99: Coffee + Cocktails
All the drinks you need, all day long.
Where does one find Plat 99? Somewhere between the Mile Square and the Guggenheim. Somewhere between ice cubes and cubism. Somewhere between Harvey Wallbanger and Andy Warhol. Somewhere right here in CityWay. It's where you'll find cocktails, artisan beverages and small plates within a glowing gallery of relaxation designed by world-renowned artist Jorge Pardo. Outdoor terrace and fireplace seating available.

Visit their website.
---
Qdoba
Mexican Eats near you.
Food for people who love food and freshness. Enjoy a wide variety of flavors at this Mexican restaurant that serves breakfast, lunch and dinner.
Visit their website.

---
Salon Lofts
Beauty redefined.
Salon Lofts is a place where beauty specialists and beauty clients come together to discover a new kind of freedom, experience and community.
They've redefined beauty for the top hair, nail, skin and massage specialists by providing them with the freedom to run their own business, their own way in a high-end salon space where they have all the tools they need to be successful.
They've redefined beauty for customers seeking a personalized, relaxing experience in a beautiful space. And, made it easy to make appointments by providing an online booking service that helps clients find their perfect beauty match.
---
Irsay Family YMCA at CityWay
Live healthy.
The new, full-service facility is located downtown on the southeast corner of Delaware and South Streets within CityWay. Joining two of the most eclectic downtown Y's in the country, the YMCA at the City Market and the histroic YMCA at the Athenaeum, the new Irsay Family YMCA at CityWay is a three-story facility offering two indoor swimming pools, three full-sized gyms, instructional kitchen, fitness classes and so much more.

Visit their website.
---
Yolk
Breakfast, brunch, lunch.
Yolk caters to the breakfast crowd, serving creative breakfasts, specialty juices and their own private labeled premium coffee in a festive and inviting setting of bright yellows and blues. It is open 6 a.m. to 3 p.m. during the week, and 7 a.m. to 3 p.m. on weekends and holidays. The restaurant provides catering. The new restaurant occupies 4,410 square feet, just east The Alexander. The south-facing storefront is open to The Plaza at CityWay, directly across from Eli Lilly and Company's campus.