About Our Neighborhood
CityWay is conveniently located in downtown Indianapolis near Eli Lilly, Farm Bureau, Well Point and Rolls Royce among other well-known local and national employers. Living at CityWay connects you to downtown Indianapolis and allows you to walk to many nearby attractions such as Fountain Square, Monument Circle, Lucas Oil and Bankers Life Fieldhouse.
If you're looking for apartments in downtown Indianapolis near Eli Lilly that are connected to just about everything, look no further than CityWay.
Local companies and nearby attractions:
IU School of Medicine
Salesforce
Eli Lilly
Farm Bureau
Well Point
Rolls Royce
Bankers Life Fieldhouse
Lucas Oil Stadium
Irsay Family YMCA at CityWay
Walking distance to Fountain Square & Monument Circle
Access to the Indianapolis Cultural Trail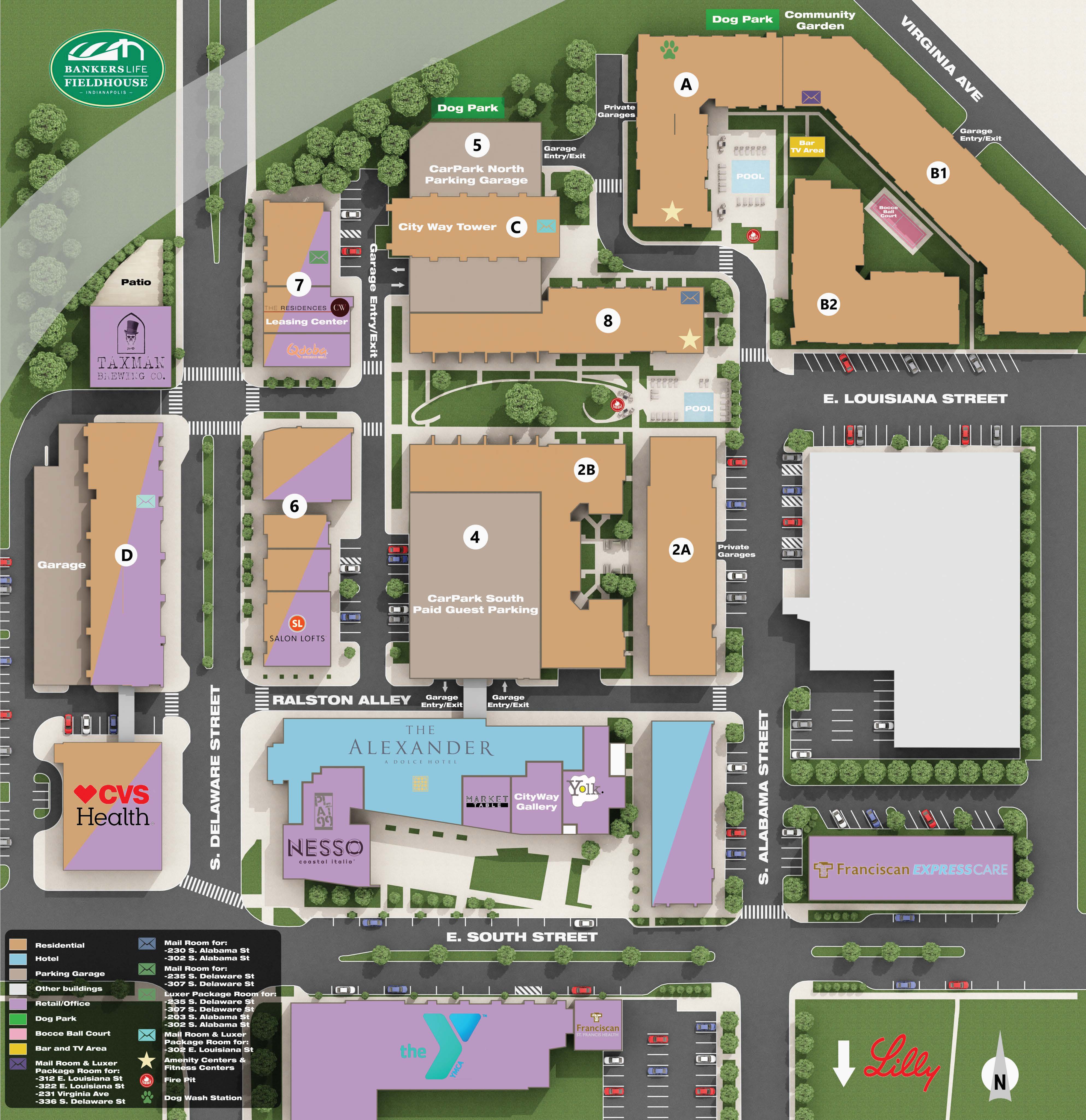 What sold us is the layout of the apartment and the warmth of the staff. Being from out-of-state, it was important to find a place that had a modern look, being surrounded by first-class people, and the amenities and location to support our interests and lifestyle. CityWay has welcomed two Californians into their community seamlessly and we couldn't have picked a better place to call "home."-

- Brian and Michelle
I love CityWay because it is an excellent location and everyone who lives and works here is really great! We also have some awesome events every month that the cool ladies on the staff at CityWay put together. My favorite event was going to Fountain Square and playing duck pin bowling and volunteering to clean up Indy.

- Debasree
We love CityWay for its central location, great amenities and very helpful staff. Living here, we can enjoy all that downtown Indy has to offer, in addition to the resident events organized by CityWay. We love all the dining out options we have right at our doorstep and are excited about new additions in the future.

- Parul & Nikkhil
We each love CityWay for the wonderful onsite amenities, the staff members that are so patient and helped us get settled so quickly when we moved in this past summer, and last but not least, the landscaping and design of the property makes the flow of life fun and easy.

- Carolyn & Larry
Location, location, location. CityWay's proximity to Fountain Square, Mass Ave, Lucas Oil Stadium and Banker's Life Fieldhouse can't be beat! I've also enjoyed getting to know other residents through CityWay's social events.

- Pat
I have lived here for a year now and will be renewing my lease. The staff has always been courteous and it is obvious that they try hard to create a community feel. My mom visited over the weekend and was very impressed by the property. She commented several times about how well the grounds were maintained and the overall cleanliness of the common areas, hallways, pool, etc. It helped remind me that I may have come to take these things for granted.

- Kristina W.
Love the location. I feel like it is a great tucked away community still close to everything. I like that I am able to walk downtown, Fountain Square, Bankers Life, etc. I also liked this spot for my dog too. There is a dog park on site and lots of greenery and outdoor space for a downtown location.

- ApartmentRatings.com
It has been great at move in. You really can't beat the location and amenities. The staff has been hospitable, courteous and timely. The maintenance workers have been just as courteous and personable. Overall, I can not wait to continue living in the great community for a lengthy amount of time.

- ApartmentRatings.com
This is a great location close to Lucus Oil Fieldhouse and Bankers Life. It is also very spacious with a large balcony. Parking is also very convenient and fully covered. The common areas are very well maintained

- ApartmentRatings.com
The apartments are lovely, a great combination of home-y and industrial, with brick feature walls and exposed ductwork.

- ApartmentRatings.com
Office staff are very courteous and always seem organized, I have never had an issue at all. Maintenance staff are prompt and courteous, always a polite greeting when passed on the grounds. The grounds always look well kept and all facilities are clean and useful.

- ApartmentRatings.com
The CityWay team does such a great job creating a unique and special community experience.

- Rebecca D.