Written By: Lauren Petersen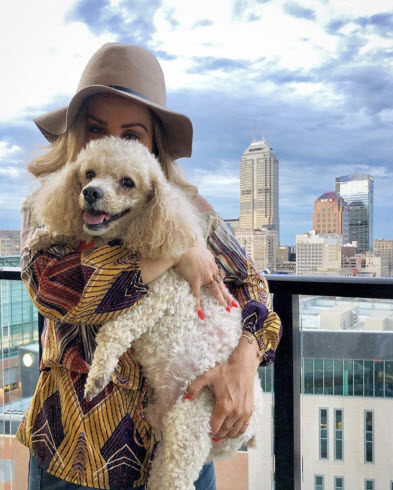 The last time I spent a significant amount of time in the mile square's southeast corridor was nearly a decade ago. It was a Monday evening, April 5, 2010 to be exact, and the Butler University Bulldogs men's basketball team were set to play an impressive Duke Blue Devils in the NCAA Tournament Championship Game at Indianapolis' own Lucas Oil Stadium. Our crew had posted up to tailgate in the designated spot at the corner of South and Delaware streets – one of the city's many surface parking lots that served adjacent anchor businesses. I distinctly remember the conversation that evening including strong opinions about that specific corridor to the city being full of untapped potential.
Fast forward to over nine years later, my impression of that corner (in the city I love) has become the downtown dweller's dream neighborhood thanks to a game changing development. How do I know this, you might ask? Because I got the chance to experience it first-hand for myself.
Before I go any further, I must admit that while I sleep in Westfield I've always felt strongly that I'm a resident of Indianapolis (where I spend most of my waking hours in my dream role at TechPoint, Indiana's tech ecosystem growth accelerator, right on Monument Circle. After a unique opportunity to spend 24 hours at Buckingham Company's premier downtown apartments with my boyfriend, Luke, and poodle, Lambeau, here are four reasons the CityWay of living may be my favorite Indy way of living (and should be yours too).
Perfect Location
The beautiful 10-acre development not only bridges the Eli Lilly and Company campus to the rest of Indy's central business district, it's within steps of Bankers' Life Fieldhouse (where we could even see Bob Seger's concert light show from our balcony). The superior location makes walking, biking or scootering to explore the local restaurants, breweries and distilleries in Fletcher Place and Fountain Square (Chilly Water Brewery and Hotel Tango Distillery are two of our favorites) so convenient thanks to the direct access to the Indianapolis Cultural Trail and two Pacers Bikeshare installations. The adjacent main roads makes getting on and off the interstate a breeze and the IndyGo bus Transit Center being just two blocks north makes commuting across the city so simple.
Premier Attractions
Being a mixed-use development affords residents the opportunity to not only live, but also play and be entertained right in their own backyard. Cunningham Group's Nesso Coastal Italia and The Alexander's Plat 99 Mixology Lounge afford two of the most stylish and trendy date night venues (I highly recommend the scallops and the old fashioned, respectively). To kickstart a morning, CityWay's multiple on-site gyms (featuring several Peloton bikes, by the way!) or The Irsay Family YMCA is an ideal wellness center with the best workout equipment, fitness classes and suspended running track. Post workout, one can even refuel with plenty of breakfast, coffee and smoothie options between Yolk, Copper Moon Coffee and Nature's Table. For those with four-legged friends, the pet-friendly dog parks and gardens offered the perfect amount of space to run, explore and make new furry friends.
Posh Amenities
A part of the CityWay magic is the extraordinary amenities across the property. For instance, guests have full access to a neighborhood hub that includes a state-of-the-art theater, indoor lounge, gym and sports simulator. On any other normal Sunday, my boyfriend and I would be out on the golf course, but on this particular rainy morning, we were lucky to have had full access to the golf simulator to practice our swings. Seven stories above this social hub where we called home for the weekend, the new apartment tower offers spacious balconies for each unit that offer the most incredible views of the Circle City. Each apartment has state of the art safety features, appliances and cabinets as well as impressively spacious rooms, facilities and closets. One of the most impressive offerings, in my opinion, is the 24/7 room service available to all residents (this would be quite dangerous, and useful, for someone like me that's a rookie in the kitchen).
Pristine Spaces
What sets the CityWay neighborhood apart from any other I've experienced, is the opportunity to be delighted and surprised around every corner, literally. The intentional effort to make art and discovery notable features of the resident experience is truly exceptional, it's almost as if the community is a living art museum. Spaces, both those you expect (like exterior building walls) and those you don't expect (like the interior parking garage walls), are activated by the likes of graffiti-inspired muralist, Nick Walker, whose most notable design, a 140-foot mural depicting "Love Conquers All" on the CityWay Tower, adorns the skyline. Kelsey Montague's lively murals literally, and figuratively, give flight to the facades and feature ornate butterflies and fireflies that encourage human interaction (who doesn't love a social media moment?!). Traversing through the greenspaces, parks and paths, it's easy to feel like you are visiting an exclusive resort with the kindest and most welcoming Hoosier neighbors abound.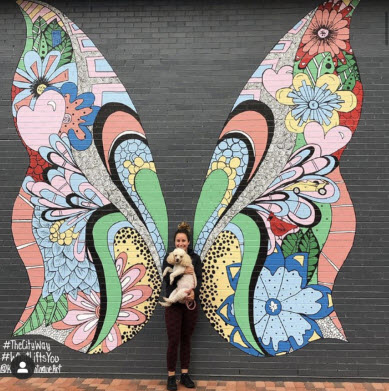 In summary, the perfect location, premier attractions, posh amenities and pristine spaces certainly inspire a way of living that I previously could have only imagined. I'm convinced, now more than ever, the CityWay of living has inspired my Indy way of living, and I hope it inspires yours as well.